4. Hardware Architecture¶
This section describes the hardware architecture produced by LegUp.
4.1. Circuit Topology¶
Each C/C++ function corresponds to a hardware module in Verilog. For instance, if we have a software program with the following call graph: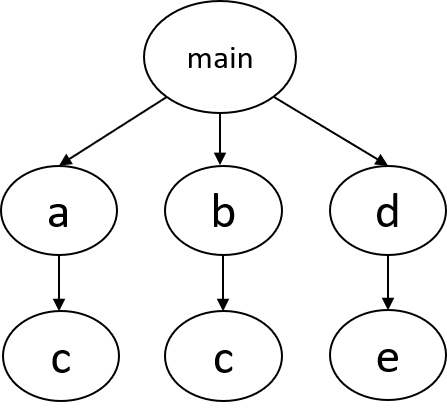 where main calls a, b, and d, each of which calls c, c, and e, respectively. Notice that function c is called by both a and b. One way to create this system in hardware is to instantiate one module within another module, in a nested hierarchy, following how the functions are called in software: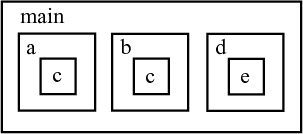 This architecture is employed by some of the other HLS tools, but it can create an unnecessary replication of hardware. Notice how module c has to be created twice, since the function c is called from different parent functions. In LegUp, we instantiate all modules at the same level of hierarchy, and automatically create the necessary interconnect to connect them together.

This prevents modules from being unnecessarily replicated, saving area. The hardware system may also use a functional unit (denoted as FU in the figure), such as a floating-point unit, which is also created at the same level. This architecture also allows such units, which typically consume a lot of area, to be shared between different modules.
Note
For a small function, or for a function that is only called once in software, LegUp may decide to inline the function into its parent function to improve performance. Any inlined function is included as part of its parent function, so there will not be a separate module in the Verilog for the inlined function. Thus you may not find all the software functions in the generated hardware.
4.1.1. Threaded Hardware Modules¶
When Pthreads are used in software, LegUp automatically compiles them to concurrently executing modules. This is synonymous to how multiple threads are compiled to execute on multiple processor cores in software. By default, each thread in software becomes an independent hardware module. For example, forking three threads of function a in software creates three concurrently executing instances of module a in hardware.
4.2. Memory Architecture¶
LegUp stores any arrays (local or global) and global variables in a memory. We describe below what type of memories they are, as well as where the memories are stored.
In LegUp, there exists four hierarchies of memories: 1) Local memory, 2) shared-local memory, 3) aliased memory, and 4) I/O memory. Local, shared-local, and aliased memories exist in the generated hardware. I/O memories are data that are inputs/output to/from the generated hardware. They exist outside of the generated hardware (LegUp does not instantiate memories for them), where top-level memory interfaces are created for them.
4.3. Interfaces¶
Please refer to the Top-Level RTL Interface section for a detailed description on the interfaces that are created by LegUp.